The Golden Joggers: 'You've probably heard of us!'
Tonsley Racing are proud to introduce, support and be racing with the Golden Joggers. Formed in a Teddington pub in 2009, by Tonsley supporters Al Muir and Ben Cuttle, the vision was to create a new virtual sports club and take the world by storm. The club name was derived by the area of South West London, where, over the years, many a beer had been sunk; the self proclaimed Golden Triangle (Teddington, Twickenham & Kingston). Aptly named the 'Joggers' reflecting the fun nature of the clubs endeavours, whilst also lulling competitors into thinking that they're racing an established setup and by virtue a good one. With their 'we'll accept anybody' registration policy, the Golden Joggers ensures that the 'crème-de-la-crème' of people who allegedly 'used to be very good at sport' are not lost to the sofa.
The clubs first entry onto the world stage was the Green Belt Relay, a 2 day 220 mile relay race around the outskirts of London. The 11 man team put in a solid performance finishing 29th out of the 30 teams entered. In the 2010 event 2 teams were entered, with the road to global domination then very much on the way. The club strapline of 'You've probably heard of us!' will certainly be engrained on the minds of those who witnessed the arrival of the teams. The new team kit clearly the envy of more established running clubs.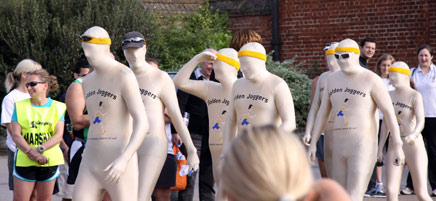 Despite representation at a number of other running races, the club's entry of a team into the Marathon de Sables is clearly a huge step forward. With the 'toughest foot race in the world' being covered by global media across print, TV and the internet, soon enough everyone will have 'probably have heard of us'!
So how did entering this event come about? Well, back in 2008 we were inspired by an Ironman at the time, a real-life weight-watchers success story who had started his ironman journey as an 18-stone beer-swilling sofa-based sports pundit. He talked at length about his story, his days of being grossly overweight some of which he never left the sofa. How his wife had tolerated his impromptu binge drinking sessions and how he once ate all 18 main courses on the Hampton Wick Tandoori menu in 24hrs. He spoke of his epiphany, how one day he saw the light and changed his ways, how he was laughed at buying trainers in the running shop and how walking home was his first hard training session. It was truly inspirational and he persuaded us to join the MdS as a 4-man team. To our great surprise, a year later he withdrew citing his demanding commitments as a brand ambassador to Ginsters. No-one has heard of him since.
So then there were three…
Rob Bruce
| | | |
| --- | --- | --- |
| | | Looks can be deceiving. His grey hair and bandy legs suggest he should be lining up in the veterans category. Historically Rob has approached endurance challenges with a laissez-faire approach often starting with little or no training 'to see if he could do it' and relying on state-of-the-art gear to get him through. At no time was this clearer than in 2004 when he competed in the 100 mile Himalayan Stage Race when his only training was the Henley Half Marathon. |
Rob soon realised that trading on his Himalayan stories was becoming dated and he needed some new content to try to impress people. The Marathon des Sables was the perfect opportunity, although this time unusually it seems that he has pulled out all the preparation stops. He has sought counsel from sports science experts at Kingston University, has sourced kit as far afield as Wisconsin USA and is unusually putting in the miles training.
Ben refers to him as 'Dad' in a reflection of his wisdom (not his apparent age), Jim as 'Seb Coe' with just a hint of sarcasm. Expect Rob to look the part on the start line and go out hard only to dramatically blow up on day two or three.
Ben Cuttle

Many ultra-runners who are reading this will know Ben very well. Many will recognise him from races around the country and his extraordinary capacity for food, but his real reputation and profile has been built online, where he is a well respected ultra-marathon blogger that goes by the name of 'big foot' (he thinks this has parallel meaning).

At six foot five, Ben is not the build of a standard ultra-runner.
Those who have endured long runs with him will be familiar with his constant wingeing of how he is disadvantaged, "my legs are too long", "I'm not built for this", "I have to carry too much food to fuel my massive body", the list is endless.

Whilst he feels he is a victim of his own size, the rest of us realise that that this man has huge physiological advantages over the rest of the field. His legs are so long that we have calculated he takes approximately 6 paces to Rob and Jim's 10. Meaning on any given run, Rob and Jim are working approximately 40% harder than him. In medical pre-screening tests for the race, the doctor classified him as a respiratory freak of nature, given the size of his nose and likening his lung capacity with that of an elephant.
Ben's preparation for the race has so far been exemplary. He has completed a number of ultra-marathons over the last six months and leads Rob and Jim in the amount of training miles completed so far. But he's a changed man. Before he met Rob, Ben used to wear Hi-Tec shoes and carry his kit in an Aldi bag. Now he wears Brooks ASR 7's and wouldn't been seen dead without a Raidlight. He is a weathered ultra-marathon man and a bastian of strength, expect this man to deliver a stong finish unless the race organisers penalise him for complaining too much.
Jim Price
| | | |
| --- | --- | --- |
| | | Jim moved to Dubai with the sole aim of finding a suitable training camp for the MdS. Two years he trained hard in the desert acclimatising to the relentless heat and arduous terrain. But his quest to challenge the supremacy of Lahcen Ahansal (the famous Morrocan who has won the MdS an amazing 10 times) suffered a 'blip' when his young son Thomas was born. Little did Jim know, Thomas was intentionally preparing his Dad for the vigours of the race by depriving him of sleep. |
His desert training has now continued, having completed the Dubai marathon carrying 11kgs in an impressive 4hrs27mins and is tipped to be the first British finisher in the 45-mile Wadi Bih Ultra in Oman in early February.
Few people know this man has real history with the desert. Comrades of his have questioned his ancestory, believing him to be part Bedouin, such is his connection with the desert. They cannot be blamed for he has shown clear signs of an affiliation with the Bedouin people, conforming to honor codes, justice dispensation systems and persuading his mother and father to adopt the Camel at Chessington Zoo.
Jim has unwavering views on kit. He has openly and vocally decided to shun the ultra-marathon community by going to the sahara with a view to being comfortable. He will be the only man in the race to have ever taken a duvet, hardback novel and reading light. Jim has even consulted Heston Blumenthal and is bringing Haute Cuisine to the desert. Not wishing to be inconvenienced with 'camping stoves' Heston and Jim have developed food that cooks through chemical reaction. Has any one told Jim about the 500 diners at The Fat Duck who got food poisoining?
Write this guy off at your peril. Despite playing everything down, his preparation has surpassed that of normal competitors (fancy moving your wife and subsequent child to a country across the world in preparation for a weeks race) - do not be fooled, he is no stranger to arduous tasks and his Bedouin heritage will ensure he's 'comfortably' quick.