We will be tracking the progress of the lads as they proceed through each checkpoint within the race.
TV
Eurosport 2 will be including Marathon des Sables updates within their evening news from Sunday 3rd to Saturday 9th April. Watch out for us!
The MdS webcam can be seen here: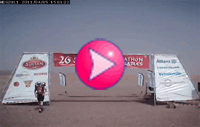 Click to watch
Daily Race Results
See how the boys have got on each day. Race organisers will be posting daily results on www.darbaroud.com – you will need to enter either individual names, race numbers (see below) or possibly the team name Golden Joggers.
Race numbers:
Rob – 885
Ben – 886
Jim – 887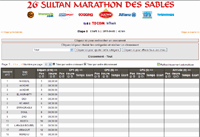 Support the lads
Write a message of support... the race organisers kindly receive emails on behalf of the competitors, print them out and deliver them to the competitors in the evenings when they arrive at that night's bivouvac. The boys will welcome messages of support as they endeavour to peel off their footwear and drain the puss from their manky blisters! Click here to leave a message. You will need to include our full names and race numbers for it to get through.
Ben, Rob and Jim will try to write an email update every day, this will be posted here…
Ben
2 Apr 2011 - Admin Day

MdS has now probably heard about us! Small possibility that we'll get some global coverage. Film crew caught us and an official photographer, so check the MdS website.

Going dark now as about to hand in blackberry. It's hot and sandy here. The mood is good, and feeling strong. (Except Pricey's backside. He farted this morning and followed through, though that's one less pair of pants to carry!)
Jim
3 Apr 2011 - Day 1
Wow, what an intro. When people who have done 7of these say its the hardest Day1 ever you have to take notice. 10 miles of the 20 total were through and over the second highest dunes in africa - they were epic! Had a 10 min admin stop at start to sort socks and feet but happy to come in at 5hrs30 and in the mid 200s overall - higher than my 400-500 expectation. Feet not bad; body not bad considering so a few hours before we get up to do it ll again. 24 miles tomorrow....can't wait!

Ben
3 Apr 2011 - Day 1
Absolutely killer day. Just under 21 miles in total and said by some people who have done it before that it is one of the toughest days they've done.
As we left the start, ACDC's Highway to Hell was playing. All that the was missing today was the Grim Reaper! 8 miles of undulation and then 8 miles of dunes, followed by 5 miles into a headwind.
Highs: Finishing
Lows: Starting! One blister.
Learnings: If you're 14.5 stone, carrying over 10 kilos and have size 14 trainers, sand dunes are bloody hardwork!

Jim
4 Apr 2011 - Day 2
This morning made spicy by a sand storm that prevented anyone getting the cookers going - cold freeze dried food is not good! The first 10 miles were spent chewing sand in the storm but it cleared up after that (although the storm is back in the camp so we've got the same probem). The terrain today was more like running on the surface of Mars with periods of dunes thrown in for good measure! Lots of big sharp rocks to do ankles on and 1 guy fell and broke his leg. Overall it was slower than yesterday but Ben and I did the last leg together as he hit a bit of a dehydration wall. The poles are working their way round the team - Rob is next! Unfortunately the gaiters also split so sand got in and didn't do the toes any favours. 5 painful days left to manage that! Thanks to all for messages, real morale boost.

Rob
4 Apr 2011 - Day 2
Day 2 complete! if yesterdaywas brutal today was savage! Last night the wind was ferocious! In a bivouac with no sidesthat means very little sleep and getting sand blasted. Thismorning preparing 4 the race was ridiculous - not possible to cook, so cold chilli con carne at 0700 - mmm! I struggled for the first 10k today,my knee was excrutiating, but managed to get on top of and put the hammer down until about 25kms. Struggled with both my knee and then my feet which are now blistering, just after 30k a bliterburst and i had to stop for 20mins to sort it. i then took it slow in 2 the finish at 38km (23miles). My ranking has dropped substantially, but the game has changed; this is less about racing and more about finishing. The conditions throughout today were pretty awful - very windy and totally sand blasted nearly all the way. That said i am enjoying the massive challenge this has become.

Ben
4 Apr 2011 - Day 2
Had about 4 seconds sleep last night. Our 8 man tents don't have doors and we had 30mph winds for much of the night. Sand absolutely everywhere..everything is impossible to do, and unless you had a flame thrower you couldn't light the fuel blocks. Cold, rehydrated chicken korma for brekkie....nice start to do the day.

24 miles today in about 5hr 45 mins. Basically got sand blasted the whole way. Struggled over the last 8 miles, though bumped into Pricey who pulled me through. Bits are just relentless, and again being the big fella of the team, find things slow over the often soft terrain.

It's great to arrive in camp, however there is essentially a sand storm blowing through.....Carry on Camping this is not!

The Golden Joggers are still fairing ok....feet are sore but we're still smiling!

Rob
5 Apr 2011 - Day 3

Thanks to everyone who sent me emails yesterday, i read them on the start line which gee'ed me up. This is turning into Groundhog day! Another 38kms under the belt. Felt good for the first 15kms as i took my painkillers earlier.

Started feeling rubbish at about 30kms so had a dump in the dunes which helped! but little did i know that picey had pased me in the process! very hot today -realised i haven't paid enough attention 2 the stunning scenery. Dreaming of pizza and roast chicken! think i am positoned about 165 which i am petty happy with, think we will run together tomorrow at least for someof it- THE BIG DAY 80kms / 52miles - is going to be very hard. Do you know how man bogies you get when you'e in the desert? Its extreme!

Ben
5 Apr 2011 - Day 3
In light of tomorrow's Long Day of 51 miles I intended to take today's 24 miles steady. I would have done had it not been for the worst terrain encountered so far - rocky plateau, mountain, sandy plateau, dunes, dunes, dunes and then in the last 7k another mountain followed by more dunes. In the dunes I am like a fish out of water flapping all over the place. After 10 miles of the bloody things today I was hurting. The feet are tender, though taping the blisters helps. I knew things were bad when I got overtaken by a dung beetle.

The other Golden Joggers are flying...though I'm def getting my money's worth by taking longer (!).

Tomorrow will hurt, and there's no escaping that - 50 miles in one hit is tough enough, let alone when you're already screwed. Can't wait!

Keep the emails coming, they seriously help.

Jim
5 Apr 2011 - Day 3
Hats of to these organisers - this is brutal! Harder again for todays 24 miles and I have never seen so many broken people in one place. Literally hundreds of people with shocking feet and injuries with just the 52 miles tomorrow in 40 degree heat to look forward to! 1 girl from our tent was disqualified yesterday for being over time so I manged to steal her Gaiters - awful for her but a winner for me so I was sandless in shoes today. Felt pretty good in tough heat and terrain and went sub 200 (place 198) and lead Golden Jogger for the first time. Standard blisters but feet still managable. Ben having a tough time so we'll probably stick together for large amounts of tomorrow to assist. This is now a survival exercise! Thanks again to all for messages - was laughing loudly at some of them last night - keep them coming!

Rob
6 Apr 2011 - Day 4

It was tough! 82kms. 45deg. ran with theboys or the first 15km which was great, then pushed on ahead.Felt strong and probably got myself back into the top 100 by CP3 @ 38kms but then started battling very bad nausea.

Got to CP4 and had a 30 min rest to recharge. But half an hour later i started throwing up. thinking it was either the powders, salt tablets, p-killers, dehyration or a mixture of them all, i stuck to water only for the remaining 35kms - no carbs and no painkillers meant my pace dropped. it was great to understand where my limits are, and i really enjoyed racing through the night. from the last CP5 with 10kms to go you could see the laser @ the finish - but it never seemed to get closer! finished in 13;57 Big shout to Ben who was onhis feet for 17hrs and toPriceyfor hauling hisass. nearly there

The Tonsley Boys
6 Apr 2011 - Day 4
Apart from the messages we have sent to the Golden Joggers, we've also sent one to the front runner, asking him to slow down or watch his back. And another, sent individually to all (about 60) British ladies in the race, with a follow on to our Golden Joggers as follows:
The global appeal of Tonsley Events knows no boundaries. Simultaneously as the Tonsley Business Club meets at the Tattershall Castle on the banks of the Thames, you too, the Golden Joggers, as representatives of Tonsley Racing / Tonsley Events will be hosting a social event for British competitors on your rest day.
Letters have been despatched to the lady runners of the British contingent, inviting them and their British team members to an English Tea Party to be held at tent 109 between 4.30pm and 5.30pm on the rest day (Thursday to the outside world). Guests have been asked to bring their own water supplies, iodine solution and tales of woe. They have also been warned that regrettably, the cucumber has gone off and that sandwiches will not be provided.
I trust you will embrace this and fly the flag for Queen and country.
May all of us at Tonsley Events wish you all the very best on this event and we look forward to hearing all about it! (find a snapper to record it for the web) TE

Jim
6 Apr 2011 - Day 4
Cancel my last - it's not brutal; it's double brutal!! The 'long day' was indeed v long and took a lot of victims. 43degrees at some check points and many people were put on drips round the course. I stuck with Ben while Rob 'Wayne Rooney' Bruce pushed on by himself! To be fair he had the best chance of keeping the GJ average times down. Big Ben did brilliantly-the heat was killing him but he had the poles to help his feet - which are in tatters! Darkness led to a pick up in pace but still - 17 hrs in anyone's book is a long time to be on your feet without a rest! Got in at 0300 this morning so now a bit of rest before the marathon day (exactly 26.2 miles) tomorrow. Body and feet manageable so hopefully I can give it a good shot. Love to all.

Jim
6 Apr 2011 - Day 4
Golden Joggers supporters:
We've just received a batch of email print outs which have brighented up this painful day like I cannot describe. Thank you all. Loud tent laughter; and to Floody and Joe who invited every GBR woman to a 'tea party' in our tent at 1630....utter, utter genius.... and they turned up! Tell everyone you know to keep them coming today. We'll need the morale boost tomorrow to get through the last day! Cheers Pricey

Ben
6 Apr 2011 - Day 4
Epic, brutal, relentless. 51 desert miles in 17 hours. This is turning into a game of survival in an effort to get to the finish. Every check point during the stage was like a field hospital with people being treated for heat exhaustion with IV drips. The last 20 miles were completed in the dark with head torch. At least then we couldn't see the dunes in front of us and just took them as they came. Again Pricey was on hand to haul me through. With a diet of hydrated food and energy bars and gels the Joggers are getting hungry and dreaming of proper food.

My feet are in tatters, I haven't had a grain of sand in my shoes all week, but the heat and soft ground have caused them to explode. They're not pretty. Tomorrow's marathon stage will be tougher.

The GJs are 17th overall, out of 45 teams!

Jim
8 Apr 2011 - Day 6
51degrees on the dial for marathon day - spicy! A big mountain climb after 8km but a relatively flat sandy course after that so quite an enjoyable day. Happy to come in under 5hr30 and 164overall, my best of the week. I'm feeling fitter every day and feet are still strong. Fair play to Brucey, he went very hard from the start with the intention of 'leaving nothing in the body' by the end! I went the slighty less risky route (I'm obviously getting weak!) but was happy to only be 9mins behind him at the end. Ben still not in as I write. 1 short leg left then of this quite unbelievable event. Last night the whole camp cheered in the last finisher of the 'long day'. A Japenese guy who was on deaths door with badly bleeding feet and staggered across the line at 33hrs, falling into the arms of the organiser. Incredible courage....what a sensational moment.